Jesus Fulfilled the Prophet Malachi's awesome Prophecy of the Tzit-Tzit
"But unto you that fear my name shall the Sun of righteousness arise with healing in his wings," Malachi 4:2
According to Jewish sages and tradition, this Sun of Righteousness referred to in Malachi's prophecy was understood to be the Messiah, who would have the power to heal who ever touched the tzit-tzit (fringes) on his garment.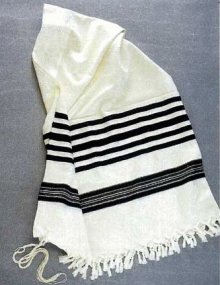 Picture of a Tallit with tzit-tzit at the bottom; such as Yeshua/Jesus would have worn
In Jesus' day, Jewish men wore a simple tunic both at home and at work. When appearing in public, they would cover their tunic with a large rectangular cloth which draped over the shoulder and fell to the ankles. This cloth was called a tallit and served as protection from cold and rain. Hanging from the end of each of its four corners (wings) was a tzitzit in obedience to the biblical command. The hem of this garment is actually made with fringes, or tassels (called tzitziyot, in Hebrew). These were required to be on the four corners of all clothing of Jewish men, in accordance with God's instruction. These tassels were to remind each Jewish man of his responsibility to fulfill God's commandments in Deuteronomy 22 :12 and Num.15:37-40. In fact, these tassels are tied into 613 knots to constantly remind Jewish men of the 613 laws of Moses, of which there are 365 prohibitions (The "thou shalt not" laws), and 248 affirmations (the "thou shall" laws). The knots also correspond with the ineffable name of God, the unspoken yod-hey-vav-hey, Yahweh.
The fulfillment of this prophecy by Jesus:
One of the best known miracles of healing that Jesus performed was the occasion when a woman who had suffered from a hemorrhage for twelve years came up behind him and touched the hem of his garment. Both Matthew and Mark tell us about this incident below. Mark further tells us, that wherever the Lord went whomever merely touched the border of his garment "were made whole".
Matthew 9:20-22
20 And, behold, a woman, which was diseased with an issue of blood twelve years, came behind him, and touched the hem of his garment: For she said within herself, If I may but touch his garment, I shall be whole. But Jesus turned him about, and when he saw her, he said, Daughter, be of good comfort; thy faith hath made thee whole. And the woman was made whole from that hour.
She was expressing her faith in Jesus as the Son of Righteousness with healing in His wings.
Mark 5:25-34
And a certain woman, which had an issue of blood twelve years, And had suffered many things of many physicians, and had spent all that she had, and was nothing bettered, but rather grew worse, When she had heard of Jesus, came in the press behind, and touched his garment. For she said, If I may touch but his clothes, I shall be whole. And straightway the fountain of her blood was dried up; and she felt in her body that she was healed of that plague. And Jesus, immediately knowing in himself that virtue had gone out of him, turned him about in the press, and said, Who touched my clothes? And his disciples said unto him, Thou seest the multitude thronging thee, and sayest thou, Who touched me? And he looked round about to see her that had done this thing. But the woman fearing and trembling, knowing what was done in her, came and fell down before him, and told him all the truth. And he said unto her, Daughter, thy faith hath made thee whole; go in peace, and be whole of thy plague.
Mark 6:56-
And whithersoever he entered, into villages, or cities, or country, they laid the sick in the streets, and besought him that they might touch if it were but the border of his garment: and as many as touched him were made whole.