Return to: BibleProbe.com
"Thing" was not observed in the room when picture was taken.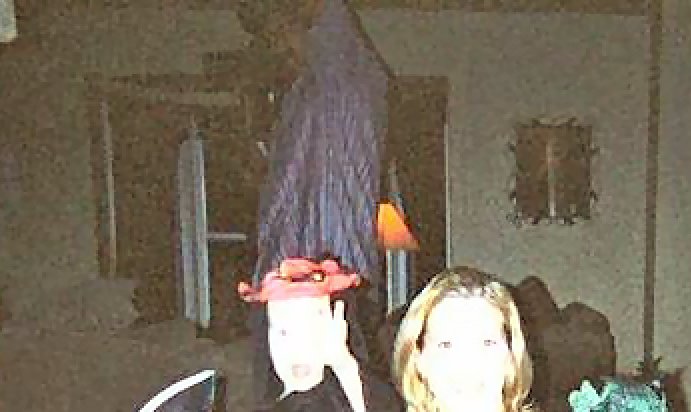 enlarged picture above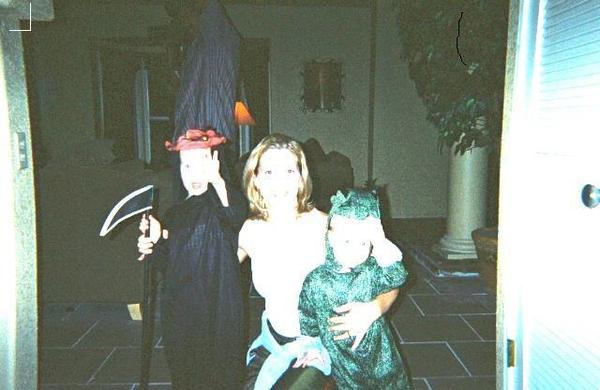 Original picture above
Hello,
I live in Phoenix AZ, my husband took this picture with a disposable film camera on Halloween with me and my kids, when i got them developed at Walmart I noticed that half of the lamp behind us was covered, it was not when we took the picture so i asked to have it lightened, the developer hunted me down in the toy section to show me the lightened and enlarged picture, i was freaked, it looks like a black sheet is hanging from behind us like from i ceiling fan, i do not have a ceiling fan or anything on the ceiling for that matter, at the top of the picture is where you piss your pants, the face is something which i want to never know but i think we all have a good idea. the figure has a second body which is longer and continues into the next negative. I rushed home from Walmart and called my husband, not 5 seconds after i hung up all the lights in the house went out, i rushed into the garage to flip the breakers, when i returned into my house, i found my 3 year old son banging on the basement door (which i had locked previously for i have a baby that could fall downstairs if my 3 year old son opened it) i asked him why he wanted to go downstairs and he replied he wanted to talk to the tall man with the stick! I was shocked! We currently have moved out of that home for that reason, and now live in a new home near a church! LOL, i hope you will find this picture interesting...